Specialty Cocoa
Defining the different flavor aspects begins with understanding the product from the source. We source fine cocoa beans from and to people who are passionate about cocoa. Who understand that the taste of chocolate is a translation of the transition process from bean to bar. We closely work together with all kinds of fine chocolatiers all over the world. Together we explore the world of cocoa and try to introduce new flavors to the market. We constantly challenge ourselves, tasting different cocoa beans from different places all over the world.
We work with selected partners across a number of fine flavor regions. Would you like to receive information about our current stock or request some sample cocoa beans? Please contact our Fine Flavour Specialist.
Fine cocoa from across the world:
Tanzania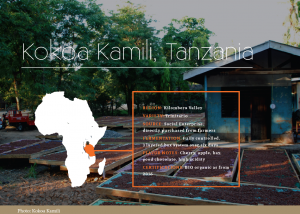 From the Kilombero Valley in Tanzania we source fine cocoa beans from our partner Kokoa Kamili, a BIO organic certified social enterprise  The beans have a fantastic sourness enriched by fruity notes, specifically apples and cherries.
"Great care during growing and processing, combined with a clement highland terroir, makes this cocoa outstanding and one of its kind."  Philipp Kauffmann – Original Beans
---
Uganda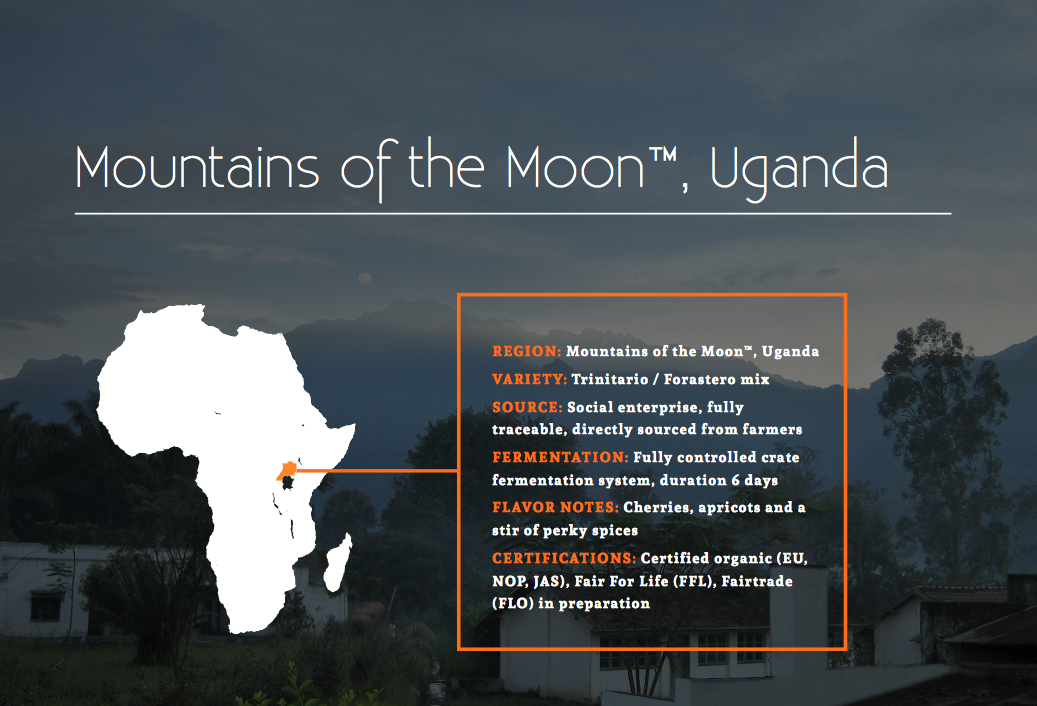 From right at the border of DR Congo and Uganda, in the mountains which are part of Virunga national park, we receive some beautiful beans from our partner Mountains of the Moon. With a rich bouquet of interesting flavors, including abricot and cherries, we are very happy to supply you with these unique cocoa beans.
"Finally, another excellent fine flavor cacao from Africa is available to craft chocolate makers!" Anna and Marc – Blanxart
Read the full sourcing report.
---
Haiti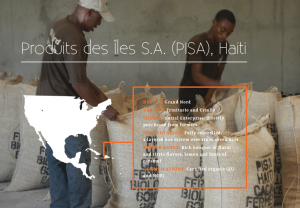 The cocoa farmers in Haiti have faced many hardships, but thanks to the hard work of Produits des Iles SA (PISA) living conditions are vastly improving, as the farmers PISA works with now receive a much higher price for their cocoa beans. The floral and fruity cocoa beans from Haiti smell delicious as soon as you roast them and are simply screaming to be turned into an award-winning chocolate.
"We look for exceptional cacao beans. But we also need to trust our partners and their vision. We believe in PISA's team and the work they do with farmers to transform Haiti's cacao sector. " Jesse Last – Taza chocolate
Read the full sourcing report.
---
Colombia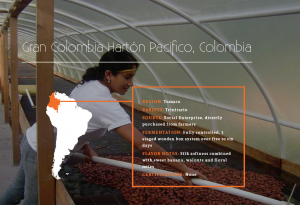 From the Pacific coast of Colombia's far southwest, in one of the poorest and politically troubled areas of Colombia, some exceptional fine flavour cacao is grown. Working closely with farmer families and with exceptional care for the fermentation processes, resulting in a very smooth chocolate taste. We are very pleased to add this specialty quality cocoa to our preferred selection of beans.
"Delicate and complex aromas, elderberry flowers, providing a noble and elegant chocolate. Soft as silk, spreading rich flavors and a loving aftertaste. These fine cocoa beans are precious like a jewel!" Sua Tavares & Tomoko Suga – Feitoria do Cacao
Read the full sourcing report.
---
Costa Rica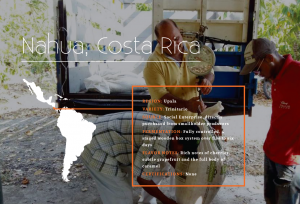 In the small hamlet of San José de Upala, Nahua has built an impressive, modern facility to manage the highest quality fermentation and drying of cocoa beans sourced directly from smallholder producers. With a warm and full cherry taste, this is intriguing high-quality cocoa.
"The complex and deep flavor profile of the Maleku beans and the fruity, balanced acidity of the Caracche beans are both excellent choices for crafting exceptional bean to bar chocolate." Inchul Kang – The roasting masters
Read the full sourcing report.
---
Colombia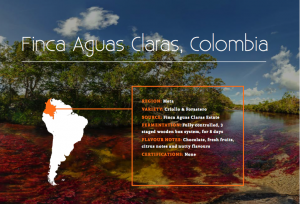 In just a short time, the Finca Aguas Claras team managed to build a burgeoning cocoa business and produce beautiful beans, despite being in an area which until recently was a major conflict zone.
"We've found the Meta cacao to have a flavour that just reminds me of a baked spiced banana loaf, it's delicate and creamy with a really low astringency." Sophie Jewett – York Cocoa House
Read the full sourcing report.
---
Brazil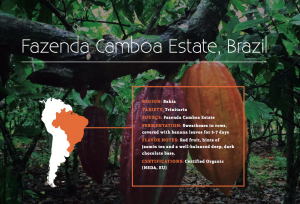 The rich biodiversity of the region and the special care during harvest and post-harvest, are reflected by the unique and fruity flavor profiles of the Fazenda Camboa cocoa beans.
"Fruity, creamy, wood and molasses notes from these beans are excellent characteristics to captivate in a single origin bar." Xavier Palau – Pangea Chocolate
Read the full sourcing report.
---
Madagascar
The Union de Coopératives Lazan'ny Sambirano (UCLS) in Madagascar, a union of cooperatives which includes 400 farmers, is a great example of farmer empowerment. We are very happy to support the further strengthening of this union, and are proud we can now supply chocolate makers with these amazing Malagassy cocoa beans.
"The UCLS beans are really beautiful and have a great fat content. They are easy to work with and have very subtle and delicate flavours when processed." Michael Coady – Suma Chocolate
Read the full sourcing report.
---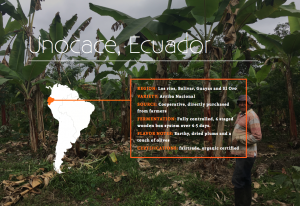 Unocace's recipe for success is both brilliant and simple: high-quality fine flavour Arriba Nacional cocoa, a unified post-harvest protocol and an excellent quality control system.
"The pleasant, discreetly intense cacao note of this cacao has earthy approaches and is rounded off by some green olive and dried plums." Martin Mayer – Martin Mayer Schokoladen
---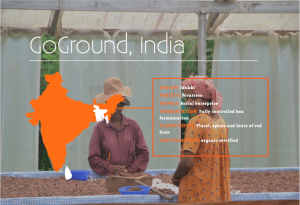 At the core of GoGround's philosophy is building committed relationships with their cocoa farmers, and creating a positive socio-economic impact in the beautiful Idukki region.
"These beans are a delight from the time we open the bag until they are tempered and molded." David Senk – Areté Chocolate
---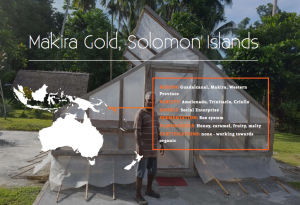 Although setting up a fine flavour enterprise is clearly a tough bean to crack in this remote location, Ronnie and Brian have shown they can face the countless challenges. Their continuous efforts directly contribute to an impactful and sustainable change for the island communities.
"It's wonderful seeing new origins appearing with great quality cacao with great flavour profiles, and see a more diversified market develop with more choices of great chocolate." Iris & Bob – Solkiki Chocolate
Read the full sourcing report.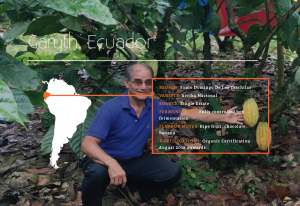 In a few short years, the Cedeño Aguilar family and their team have established a thriving cocoa business. This success can be largely attributed to Thomas' passion for farming, which shines through when walking around the well-cared-for plantation.
"It is easy to tell by the quality that the grower has taken immense pride and care in growing, fermenting, and drying these beans. " Alex, Barry & Stewart – Harris & James chocolate
Read the full sourcing report. 
---
We also have beans from a number of other origins in stock. Curious to find out what we have on offer? Contact our Specialty Cocoa Desk: specialtycocoa@cocoanect.com or +31107603113